Snow and Ice Management
Living in New England, most of us either look forward to, or would like to avoid, the arrival of a snowy winter season.
At Black Diamond Landscapes, we are among those who eagerly await the scent of cold, crisp air on a gentle evening stroll or the sound of brittle, crunching snow under foot on a brisk morning walk. Not everyone anticipates the change of seasons with the same enthusiasm or dreams of shoveling snow off a driveway or spreading sand or ice melt on a walkway.
For these reasons alone, and in late November or early December, Black Diamond Landscapes transforms its landscape maintenance and construction operations into a full-scale residential and commercial snow removal and ice management company based in Woburn, MA, that is ready, willing and able to take on any snow blowing, snow shoveling, snow plowing, snow relocation, ice sanding or ice salting job … no matter how big or small.
Our crews and equipment are prepared to handle any snowfall that nature can throw our way … and pile up at your home or business. All of our snow removal and ice treatment services are provided around the clock and are customized or personalized for your home or business.
We have the knowledge, experience and personnel to keep you moving no matter how bad weather conditions might be and offer the following residential, commercial and corporate snow removal and ice management services in Woburn, Arlington, Lexington, Belmont, Winchester, and Burlington, MA.
Snow Blowing
Snow Shoveling
Snow Plowing
Snow Removal
Snow Relocation
Sanding parking lots, sidewalks, driveways, walkways and steps
Salting parking lots, sidewalks, driveways, walkways and steps
Corporate Snow Plowing
Snow Plowing Contracts
Residential Snow Removal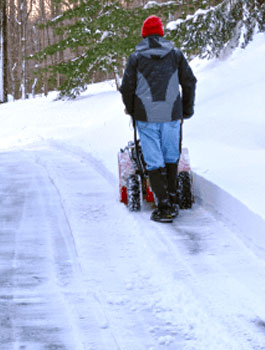 Most homeowners do not like to clear snow from their driveways, walkways, stairs, steps or decks, especially when it's 5 a.m. in the morning or 11 p.m. at night.
At Black Diamond Landscapes, we work all hours of the day or night clearing or removing snow and sanding or salting ice so that you don't have to … plain and simple. We do it all for you and we do it a way that no one else does. When you hire us to clear or remove snow from your driveway or walkway, for example, we typically don't use an oversized dump truck or pick-up truck with a huge plow mounted on the front. We actually clear the snow by hand. That's right, by hand, or, actually, the hands of our experienced snow removal crews who use snow blowers and snow shovels to safely and efficiently clear or remove snow no matter where you need it done.
Most snow plowing companies have one objective in mind during a snow storm … to get on and off your property, usually only the driveway, as quickly as possible. After these companies have finished plowing, you often will find that the plow ripped chunks or strips of grass from your lawn or left behind a layer of snow that later turns into a coat of ice.
Not so with snow removal by Black Diamond Landscapes. When we clear your driveway with our snow blowers and snow shovels, we clean the snow right down to the asphalt, concrete or pavers … from end to end and edge to edge. We also will remove snow from walkways, stairs, steps, patios, decks and sidewalk in front of your home, or any other areas that need clearing, plus we'll spread sand, salt or ice melt if that's what you want us to do. And, if it makes sense, or if you want us, to use a snow plow to clear your driveway, rather than use snow blowers and snow shovels, we'll do that, too, with the same commitment to quality and excellence that we apply to all of the work that we do.
If you live in Arlington, Belmont, Lexington, or Winchester, MA and some locations in Woburn, Watertown and Cambridge, please contact Black Diamond Landscapes today for all of your snow removal and ice treatment needs this winter.
Commercial Snow Plowing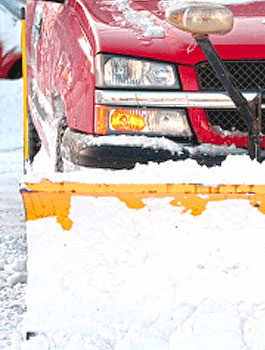 During and after a snow or ice storm, our business customers rely on clear, safe access to their parking lots and buildings for their employees and customers. And, that's why these customers count on Black Diamond Landscapes to handle all of their snow plowing and snow removal needs, as well as their ice treatment requirements.
Taking care of business while snow falls, and after it has ended, is what we do for our commercial customers at all times … and in all types of weather, ranging from swirling snow blizzards or slick ice storms to a few inches of slush or a few feet of powder.
Timely, efficient and reliable snow removal is not only vital to our business customers, but also for churches or synagogues and their worshipers, for schools and their students or teachers, for libraries and their readers or patrons, or for any other municipal building or property and its employees and visitors.
No matter how bad the storm, treacherous the conditions, or the property in need of snow clearing or ice treatment, Black Diamond Landscapes has what it takes to manage your snow removal needs with our well-maintained trucks and equipment, and multiple snow plow and snow shovel crews … all available any time of the day or night from mid-November to early April or whenever a snow event occurs.
Black Diamond Landscapes specializes in commercial snow plowing and removal, as well as ice sanding and salting, for business customers in Arlington, Belmont, Lexington and Winchester, as well as some locations in Woburn, Watertown and Cambridge, MA. We also offer our customers the flexibility of two payment options based on their own preference: a rate that covers the entire winter season regardless of the amount or frequency of snow or a rate for plowing, sanding or salting per snow storm/event. Similar to our residential snow management services, we will customize or personalize your services to accommodate your own specific snow removal and ice treatment needs or requirements.
Sand/Salt and Ice Melt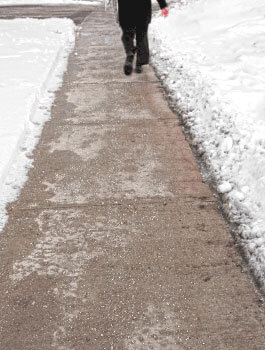 After a winter storm, when all the snow is plowed, shoveled or blown aside, a thin layer or coating of ice often builds up as the temperature goes down. This situation can be more hazardous than the snow or slush that was previously removed and should be treated before it becomes more dangerous to drive or walk on.
Whether the property is your home, place of worship, business, municipal building, or parking lot, quick and effective treatment of slick snow and ice conditions often is crucial to protect the health and well-being of those who live in, work at, or visit these properties. For most of our commercial snow plowing customers, an application of sand and rock salt, or just salt, is the most effective way to treat slick snow or ice conditions.
For most of our residential customers, a combination of calcium chloride and rock salt, mixed with calcium magnesium acetate, usually is the treatment of choice. This product is particularly effective when the temperature drops below 26 degrees and when protection of your hardscape, lawn and landscape plantings from the strong effects of the chloride/rock salt combination is a priority. To make sure that we do a complete job and cover all of the areas that need treatment, we use a drop or broadcast spreader to ensure that we reach all of the surfaces and edges of your walkway, sidewalk, and driveway.
If your home or business is located in Arlington, Belmont, Lexington and Winchester, as well as some locations in Woburn, Watertown and Cambridge, MA, call Black Diamond Landscapes and let us handle your ice treatment needs this winter season.