Landscape Construction
The softer side of your outdoor hardscape investment, often called soft-scape or green-scape, is the complimentary "filler" or planting phase of your landscape construction project that occurs after the hardscape or masonry stage is complete.
While a new brick paver patio or natural stone wall might steal the show as the highlight of your property, the supporting cast of flowers, shrubs, bushes and trees will complete the picture with an array of shapes, colors and textures. At Black Diamond Landscapes, our landscape construction crew has the knowledge and experience to build the flower garden or shrub bed that you always wanted, install ornamental trees and bushes as a privacy screen, or install an irrigation or lighting system to put the finishing touches on your outside living space. All aspects of the construction process, including key factors such as sun/shade conditions, drainage, grading and privacy, are taken into consideration from the time we first meet with you to discuss your landscape vision and goals to when we design and build the project.
After the design phase is finished, our trained and talented construction crew will begin the installation process. This process includes working with homeowners or business owners each step of the way to make sure we are available to answer any questions that you may have about the project or respond to changes that might be requested along the way. This is the approach that we take on all of our landscape construction projects so that we know what you want at all times … and deliver on our commitment to provide a finished product on time.
Lawn installation and lawn renovation
Lawn sod, dry seed and hydro-seed installation
Lawn sprinkler and irrigation system installation
Lawn sprinkler and irrigation system repair and maintenance
Lawn sprinkler and irrigation system winterization
Shrub, bush, tree, flower, and garden design and installation
Landscape accent lighting design, installation, and maintenance
Bark mulch delivery and installation
Loam, compost, and topsoil delivery and installation
Lawn Installation and Renovation
Landscape Accent Lighting
Lawn Installation and Renovation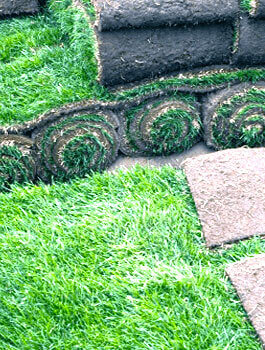 The lush green look, cool carpet feel under your feet, and straight or contoured lines after proper mowing are all signs of a well maintained and manicured lawn. To get any lawn to look and feel this good does not happen by accident or mistake. Rather, all healthy, thriving lawns happen because a company, particularly Black Diamond Landscapes, has the right combination of knowledge, skills, and experience to install a new lawn using appropriate planning, quality materials, and proper installation methods.
The first step in the creation of a beautiful, vigorous new lawn using the conventional method begins with the removal of old lawn, including the roots and infertile soil usually to a depth of six to eight inches. After this so-called excavation phase, our lawn construction crew re-grades or "rough grades" the earth so that it conforms to its natural or proper grades and pitches to ensure appropriate drainage. The new lawn area is then re-worked to achieve a finish grade, whether it's a flat, wide open area that requires a skid-steer or a tight, angular corner area that requires hand work.
After the grading phase is complete, the lawn rebuilding process then moves to the loam spreading stage, where six to eight inches of a loam and compost blend are normally applied. Many of our customers ask why we use loam mixed with compost. The answer is quite simple: the soil that we spread on the new lawn area typically is the same loam that was removed from the old lawn area during the excavation phase and would be just as infertile, unless it is mixed or blended with nutrient-rich compost to help ensure growth of the new lawn. Following application of the loam/compost mix, we then spread the proper type of seed based on the several factors, including natural light, water conditions and usage patterns. All seed is spread evenly over the area, after which starter fertilizer is applied and raked into about one inch of the topsoil, and then lightly rolled or compacted to ensure proper seed and soil contact.
For those who prefer to have an "instant" new lawn, we will install premium quality sod, which provides a new, fully grown lawn in much less time than the conventional method. While many of the same steps would be taken to prepare your new lawn area, such as the excavation and loam/compost phases, the sod lawn method bypasses other time-consuming steps such as seeding and raking. Sod lawns are, by far, the best option for your home or business if you want a vibrant, good-looking lawn in a few days rather than a few weeks.
Shrubs, Trees and Mulch
From the construction of small beds and gardens to commercial parks and courtyards, Black Diamond Landscapes has the knowledge, skills and ability to design and build virtually any landscape project that you can imagine. Whether you want one-foot perennial flowers, 10-foot arborvitae hedges, or 20-foot dogwood trees, for example, we will install your choice of plantings in the locations that you desire.
We have years of experience working in many different settings ranging from flat, open areas to steep, hillside slopes and the know-how to recommend or help you select the appropriate plantings for each one. When we work with you on the design and installation of your landscape, we pay particular attention to every technical aspect of a landscape project, such as shade tolerances, soil composition, planting depths and water requirements, as well as any requirement for additives, especially compost or peat moss when soil conditions are less than satisfactory to sustain proper plant growth.
As a finishing touch to your new — or existing — plantings, we also will install a variety of mulches to compliment or highlight your plantings, retain vital moisture in the soil, reduce weed growth, and decrease soil temperatures. The types of mulch that we offer include premium red hemlock, aged hemlock (brown), black forest, and dark pine bark.
Irrigation Systems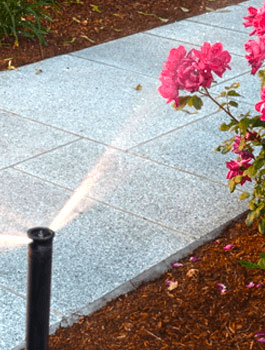 After you have decided on the landscape design, or new lawn solution, for your home or business, and material, planting and seed selections have been made, there is one more important question to answer: What is the best way to water the new shrubs, trees, flowers or grass? The answer: an automatic irrigation system installed by Black Diamond Landscapes.
As part of our commitment to provide homeowners and business owners with a one-stop-shop or full-service landscape construction experience, we also design and install automatic irrigation systems. Every irrigation system that we install is custom-designed for your landscape needs, whether it is a drip system for your planting beds, pop-up spray heads for your lawn, or long-range rotors for expansive turf areas.
All of our irrigation systems are constructed with best quality, commercial-grade components, including controllers, valves, head types, and rainfall sensors, all intended to provide optimal and efficient coverage of your home or business landscape. And, to complete our comprehensive checklist of irrigation services, we also will visit your property in the fall to "winterize" or shut down your system and in the spring to start up or activate your system, as well as perform any needed system maintenance or repairs along the way.
Landscape Accent Lighting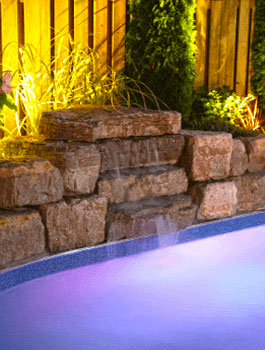 When the sun sets and night falls on your shrub beds, flower gardens and other plantings, it usually means that the time for viewing or appreciating your landscape has ended until sunlight appears again in the morning. Not so at Black Diamond Landscapes, where we have a different view of nightfall. With landscape lighting systems expertly designed and installed by our landscape construction crew, the colors, textures and shapes of your home or business landscape will come to life in the evening with eye-catching detail, along with added safety and security.
We only use the highest quality, professional-grade equipment made of durable, long-lasting, weather resistant materials, not department store variety solar-powered fixtures, for all of our lighting projects. If you are thinking about a lighting project for your home or business landscape, you will be delighted with the many different styles of landscape lights available, which consist of various metals, textures and finishes.
The type of lights from which you can choose also is extensive, including in-ground or well, spot or accent, cylinder, bullet or box shape, spread and diffused, and bollard or post. In addition to helping you select the right style and type of light for your lighting project, we also will work with you to help you make the best decision on the reason for the lighting, such as up lighting at the base of a tree or stonewall, for example, down or area lighting, path lighting to accent a garden walkway or floral grouping, for instance, back lighting, moon lighting, and spot lighting.
No matter which style or type of light you choose, or the part of your landscape that you want to illuminate, Black Diamond Landscapes will design and install a landscape lighting system that's not only low voltage and energy efficient, but will be just right for you and your property.