Landscape Maintenance
To keep your landscape looking its best at your home or business, whether it is maintaining your lawn every week, cleaning up your property every spring and fall, fertilizing your grass, or pruning your shrubs and trees, we encourage you to call Black Diamond Landscapes … today.
Like most landscaping companies, we specialized in lawn mowing services at the start of our business, which began more than 15 years ago. It did not take long for us to realize the importance of regular maintenance of a homeowner's or business owner's entire landscape and to recognize the pride that most have in the overall appearance and up keep of their properties.
To make sure that our customers and their properties received the attention that they needed or wanted, Black Diamond Landscapes expanded its operations and began offering a wide range of services that encompass a "full-season approach" to landscape maintenance. We did this for one very important reason … to ensure that our customers could have all of their landscaping needs taken care of ranging from weekly mowing and edging to seasonal and storm clean-ups … and anything else that they might require in between, such as lawn aeration or seeding.
At Black Diamond Landscapes, we offer our services on an individual or stand alone, a seasonal, or a year-round basis, which will be explained in detail when we meet with you for a one-on-one consultation at your home or business at any time of the year.
When you hire Black Diamond Landscapes to care for your lawn and landscape, you can be sure that you will be serviced by a professionally trained and experienced crew that is dedicated to doing a quality job for you each and every time they visit your property.
Residential lawn mowing
Lawn seeding
Lawn fertilization
Lawn aeration
Spring cleanup
Yard cleanup
Fall cleanup
Leaf cleanup
Shrub pruning and trimming
Commercial lawn mowing and maintenance
Condominium lawn mowing and maintenance
Lawn mowing and maintenance contracts
Spring and Fall Clean-ups
Lawn Mowing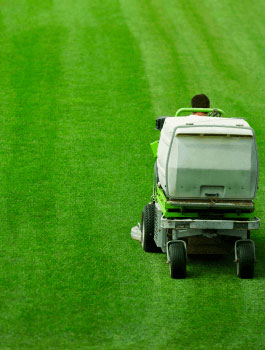 The grass is always greener and neater in a yard maintained by Black Diamond Landscapes, Inc. … or at least we certainly strive to achieve that goal.
To many homeowners and business owners, a lush, green, clean-cut, well-manicured lawn is a source of pride and joy. If you share this vision for your property, or even if you do not, Black Diamond Landscapes has the necessary resources to take outstanding care of your lawn … no matter if your property consists of a small yard located in a quiet city or suburban neighborhood or acres of grass in an office park or a large commercial property.
Our landscape maintenance crew will provide you with complete, year-round lawn care, including cutting, trimming and edging, as well as clean or remove debris from your yard especially after severe wind and rain storms. For customers who desire or request regular fertilizer applications, we will put you in contact with a respected, certified and licensed company that handles all of our lawn treatment requirements.
Spring and Fall Clean-ups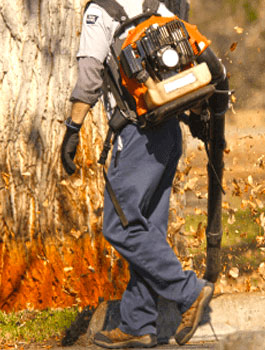 Every fall in New England, we are treated to a display of brilliant orange, red and yellow colors as leaves turn from the deep green shades of summer to the vibrant, vivid hues of autumn.
Eventually, these leaves fall to the ground and cover lawns, as well as flower and shrub beds, with a blanket of brown or not-so-colorful leaves, plus bushels of pines needles and acorns, just to mention a few. Likewise, in the spring, your lawn and beds are often matted down by the weight of heavy snow and ice, or covered with a layer of sand or melted salt.
No matter the season or situation, Black Diamond Landscapes dedicates virtually of all its equipment and staff to fall and spring clean ups that transform your landscape into a picture-perfect property and the envy of your neighborhood. We have the resources and capability to clean your yard or business property of all leaves once, twice or even, on some properties, three times every fall.
Similar to the spring, fall clean ups are an important step in preventing the growth of certain diseases and molds in your lawn and planting beds, especially during a long winter season. While these clean ups are important to the health of your grass and plantings, the removal of leaves, needles and other debris from your yard also improves the appearance of your property for the rest of the season.
Pruning and Trimming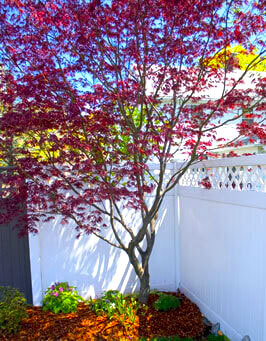 When the long days of summer arrive in July and August, you probably look forward to swimming in your favorite lake or sunning on a sandy beach. During this time of year, when the days are hot and dry, your lawn requires little maintenance other than watering and mowing. However, this is the best time of the year for your shrubs and bushes to be trimmed or pruned, now that their growing season has come to an end.
At Black Diamond Landscapes, all of your shrubs, bushes and hedges are cut and shaped with the utmost care and precision by our landscape maintenance crew. Whether performing heavy-duty cutting of your privet hedge or light, delicate shaping of your rhododendron, for example, our experienced crew knows what it takes to prune or trim your landscape plantings the right way each and every time.
In addition, we will arrange for large tree pruning or trimming through our affiliation with several respected companies that specialize in this type of work and who share our commitment to excellence and customer satisfaction. Whether you prefer that we arrange for the pruning or trimming of your trees, or you prefer to make your own arrangements, you can be assured that the companies we recommend are certified, insured and dedicated to providing you with superior quality service.
Seeding and Aeration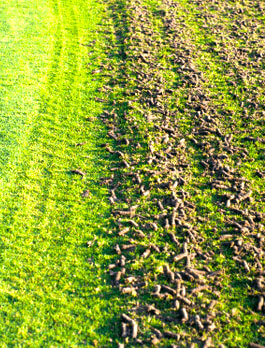 Several important services that add to a complete, effective landscape maintenance program for your lawn include aeration, slice-seeding or over-seeding.
Aeration, which usually is performed in early fall, uses a machine that pulls two- to three-inch deep plugs of soil out of your lawn and drops them on the surface of your lawn to slowly disintegrate or dissolve. The purpose of aeration is to provide for better air circulation of and deeper moisture in the lawn's root zone. As the aerating machine deposits pieces of soil on the surface of the lawn, it also helps to eliminate or remove the accumulation or build up of thatch during the summer months. In addition, aeration helps to loosen or lower the density of clay-based or highly compacted soils, which will enable roots to grow more quickly and easily.
Another service that we offer is slice seeding, which is an alternative to the installation of a sod lawn. Slice seeding is used in situations where a lawn's soil is fresh and fertile, but cannot support the growth of thick, green, lush grass. Generally, such lawns are thin and scarce, with shallow roots, because the wrong variety or type of seed was applied. To solve this problem, slice seeding uses a machine to slice the top inch of soil on your lawn and simultaneously deposit grass seed in these slices. This technique is an excellent option for renovating an existing lawn that often results in greener, thicker grass in just a few weeks.
Over-seeding is another excellent lawn-growing service offered by Black Diamond Landscapes and is an option that is often selected by some of our customers. This procedure usually is performed simultaneously with lawn aeration in the fall, during which seed is spread over the lawn and into the two- to three- three inch holes or spaces created by the aeration process. The result can be dramatic new lawn growth and added thickness to the lawn or turf areas of your home or business landscape.
Fertilization and Lime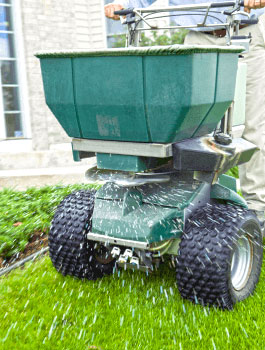 Black Diamond Landscapes understands and appreciates the enjoyment that many homeowners and business owners obtain from green, well-manicured lawns and vibrant, healthy-looking plantings. While nature plays a role in maintaining the vitality of your landscape, there are times when your grass, flowers, shrubs and bushes can benefit from a regular, or periodic, application of lime, fertilizer, weed prevention or insect control.
For example, we recommend that all lawns receive an application of lime in the fall, preferably as part of the aeration process. Acting as a conditioner, not a fertilizer, lime performs several important functions to neutralize the accumulation of acids in soil and supply several important nutrients, primarily calcium and magnesium, which are vital to a healthy, thriving lawn.
In addition, most lawns and landscape plantings benefit from several applications of fertilizer from early spring to late fall, as well as weed or insect control treatments, each of which are designed to help keep your yard in great shape and looking its best. If you are interested in a fertilizer or treatment program for your property, we will arrange for you to be contacted by the Savatree/Savalawn Company which, along with Black Diamond Landscapes, will provide you with the best method of care and treatment for your lawn or landscape plantings.