Hardscape & Masonry Construction
The centerpiece or focal point of most yards, beds and gardens is stonework.
At Black Diamond Landscapes, we strive to make this aspect of landscaping the center or focus of our work, as well, which many satisfied residential and commercial customers enthusiastically describe as the showpiece of their property. Years of training and experience show in every hardscape or masonry project that we do, whether it's a walkway, driveway, patio, terrace, wall or set of stairs, all consisting of different sizes and shapes of material.
Among our most popular and frequently requested hardscape or masonry projects are concrete or brick paver walkways, bluestone patios, fieldstone walls, granite steps or stairs, cobblestone borders, and concrete block retaining walls. There literally is no limit to the imagination of a homeowner or business owner when selecting hardscape materials for their project, including type and composition of the material, as well as the variety of styles, colors, and textures that are available. Along with adding an element of beauty or artistry to your property, stonework also adds value and appeal. From a simple bluestone walkway to the ultimate heated driveway under interlocking brick or concrete pavers, stonework almost always provides the "wow" factor to any home or business landscape.
When you hire Black Diamond Landscapes for your hardscape or masonry project, you get a finished product built with the ultimate in craftsmanship and structural integrity, as well as the highest quality tools and most current construction methods. Joe Cusce, Jr., founder and president of Black Diamond Landscapes, is ICPI (Interlocking Concrete Paver Institute) and NCMA (National Concrete Masonry Association) certified, with an emphasis on segmented retaining wall construction. Black Diamond Landscapes, itself, is a member of ICPI, which ensures that our staff is well-trained to build stone or masonry projects that provide homeowners and business owners with many years of satisfaction and enjoyment.
Stone walls, retaining walls, sitting walls, benches, and terraces
Stone patios, driveways, walkways, stairs, steps, and fire pits
Cobblestone borders, driveways, aprons, walkways, stairs, and steps
Granite, bluestone, limestone patios, walkways, stairs, and steps
Brick paver borders, driveways, walkways, stairs, and steps
Concrete patios, walkways, and driveways
Granite curbing installation and relocation
Mortar repointing, repair and replacement
Stone and concrete demolition and disposal
In-ground pool fill in and concrete deck removal
Outdoor living space design, build and install
ICPI and NCMA certified and approved
Patios and Walkways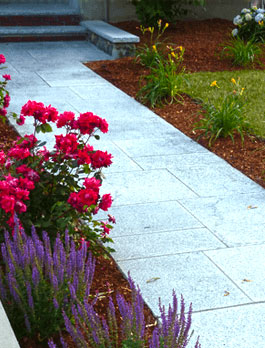 Outdoor living in the summer months is the ideal way to sit back and relax, entertain a small group of neighbors, or have a large party or celebration with your family.
One of the best, most enjoyable, ways to do this is on a brick paver, bluestone or concrete patio, for example. Our crews have designed and created countless hardscape projects that incorporate patios of all sizes and shapes and walkways of all lengths and widths … each one constructed with quality materials and attention to detail.
At Black Diamond Landscapes, we excel at the proper preparation and installation of patios and walkways, and, when you hire us to build one for you, we will work closely with you from beginning to end to make sure that we understand what you want … and that you get what you asked for.
With appearance, performance and safety foremost in the design and construction of your project, and attention to critical elements involving drainage, grading, and potential additions to your landscape, like lighting and irrigation for example, look no further than Black Diamond Landscapes for all of your hardscape and masonry needs.
Walls and Stairs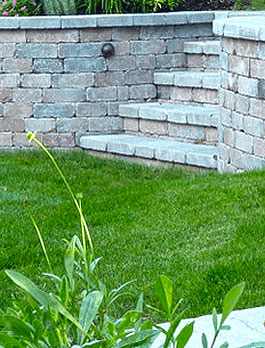 One of the longest lasting and most prominent structures in any landscape is the hardscape, which typically includes a wall and/or steps made of either natural or manufactured stone.
The most striking feature or element of any stone wall is the material from which it is made, craftsmanship with which it is constructed, and the creativity or simplicity with which it was designed. At Black Diamond Landscapes, we have a hardscape and masonry construction crew that specializes in all aspects of stone work, including all types of walls and any stair systems that might need to be built into the structure. Our crew has many years of experience, and the best tools and equipment, to build the ideal wall for your home or business.
We offer natural stone or segmented stone walls, often with integrated stair systems, for construction of retaining wall or freestanding wall designs. All of our wall or stair construction projects incorporate several key components including design, appearance, performance and safety. And, it's important to note, our hardscape and masonry crew is NCMA-trained and certified, which is essential to making sure that whatever type of wall we build for you, it will be built according to the most up-to-date standards and specifications.
Driveways and Curbing

The ultimate curb appeal and investment in a home or business landscape is the addition of a paver or concrete driveway.
Not much attracts the eye like the uniform layout of a well-designed and installed paver system in a driveway application. Black Diamond Landscapes has received many accolades over the years for our high quality paver, concrete and asphalt driveway designs and installations, each one based on best-in-the-industry excavation practices and best-in-class aggregate stone bases, surface materials and compaction methods.
In addition to these important elements of construction, we make sure to integrate proper drainage, correct grading, and appropriate edging as part of your driveway project. We also will install granite cobblestone or brick paver borders for your planting beds, as well as install or relocate traditional six-inch granite street curbing, a feature that always enhances the appearance of any home or business.